We are honored to receive recognition for our program by the 'All India Council of Technical Education,' an esteemed entity. AICTE is the national-level council for technical education in India.
Eligibility
Hold a baccalaureate degree in Engineering/Architecture/Design from an accredited university or college or equivalent- B.F.A ( 4-Years Professional Program, after 10+2), Professional Diploma in Design (NID PGDPD or equivalent of 4 years program after 10+2).

GMAT, GATE, GRE, NID PGDPD, NIFT & CEED scores are accepted for admissions in PGDD.


Get The Creative Edge with ISDI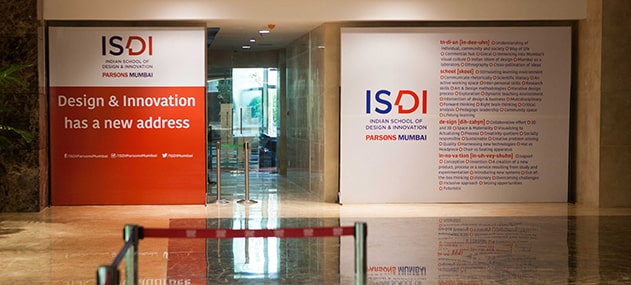 Curriculum Design by Industry Experts.
Receive Hands-On Learning Experience & Industry Exposure.
Our Students Seamlessly Cross The Threshold From Learners To Professionals.
Access to 3-D Printers, Wood Working Studios, State-of-The-Art Machinery & Design Labs
Located in the Financial Centre of India, Mumbai. The City is Bubbling With Opportunities for The Students.
Rural and International Immersions as an Integral Part of Learning.
Curriculum
Trimester 1
Design Thinking
Design Research Methods
Design Theory & Elements
History Of Design
Design Culture & Society
Design Studio 1 - Social Innovation
Trimester 2
Computer Aided Industrial Design
Product Aesthetics & Semantics
Materials & Manufacturing Processes
Human Factors & Ergonomics,
Models And Prototypes
Design Studio 2 - Tech Innovation
Trimester 3
Business Design & Planning
Quantitative Reasoning & Financial Methods
Strategic Innovation Management
Innovation Marketing & Branding
Integrated Research & Development
Design Studio 3 - Business Innovation
Trimester 4 (Specialisation)
Strategic Design
Organisational Design
Operations Management
Digital & Social Marketing
Service Design
Entrepreneurial Strategy
Product Innovation
Design For Manufacturing
Automation
Basic Robotics
Biomimetics
Internet Of Things.
Interaction Design
Cognitive Ergonomic
Interaction Design
Programming
Motion Graphics
Virtual Reality
Trimester 5 (Electives)
Design Management Track
IPR & Legal Systems
Business Analytics
Business Communication

Course of independent study
Product Innovation
Designing For Systems
Augmented Reality
Futurism Studies

Course of independent study
Interaction Design
Digital Production
Data Visualisation
Programming 2

Course Of Independent Study
Trimester 6
Thesis Project
Document Design
Industry Interface Graduate Show.